Larry Gaughan is one of the most experienced divorce mediators in America. He founded Family Mediation of Greater Washington in August, 1980. During the previous academic year he was Scholar in Residence at the Georgetown Family Center, which at the time was in the Department of Psychiatry at Georgetown University Medical School. This gave him the opportunity to study under Murray Bowen, M.D., who was one of the founders of family systems psychiatry. Larry's goal was not to become a "pseudo-psychiatrist", but rather better to understand as a lawyer the emotional dynamics of families going through marital separation and divorce.

Larry graduated from the School of Law at the University of Montana and was first admitted to the bar in Montana. After serving as a U.S. Air Force Judge Advocate in Texas, Turkey and France, he received an LL.M. at the University of Virginia School of Law in 1964, and in the same year was appointed Assistant Professor of Law. During this time he was admitted to practice law in Virginia. In 1970 he was appointed Associate Professor of Law with tenure at Washington & Lee Law School and was promoted to Professor in 1975. After his sabbatical at the Georgetown Family Center, he remained in the Greater Washington Area. He was appointed Professor of Law with tenure at George Mason Law School, and remained on the faculty through 1987, when he resigned to carry on his full-time practice of family law and mediation. At GMU Larry taught courses in Alternative Disputes Resolution and Advanced Family Law Practice.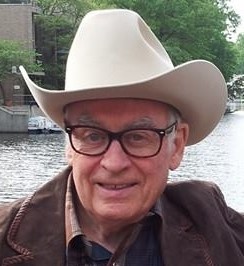 In the early 1980's Larry was deeply involved in the growth of the family mediation movement. His mentor was O.J. Coogler, a former state senator from Georgia who was the founder of the organized movement to promote divorce mediation in the United States.
In 1980 Larry became the President of the Family Mediation Association, the first national organization for family mediation. Then in 1981 a new organization, the Academy of Family Mediators, was founded in the conference room of Larry's former office in Arlington, Virginia. The founders included John Haynes, Steve Erickson, Judy Wood, and others who were among the most experienced divorce mediators at that time.
The appointment to the George Mason law faculty also included the ability to carry on a professional practice. Larry has actively and continuously practiced family mediation (mostly divorce mediation) since 1980. During that time, he handled over 3,000 different cases as a mediator. For most of that time Larry also conducted a separate practice as an attorney, but he has almost completely terminated that side of his practice since 2008 to focus on family mediation and collaborative practice.
During the period 1978-1982 Larry was a member of the Board of Governors of the Family Law Section of the Virginia State Bar. For 25 years (1975-1999), Larry gave a lecture each year at the Annual Convention of the Virginia State Bar on the developments in Virginia family law (including legislative changes and new case law) for the previous year. These lectures were then circulated around Virginia on videotape. As an attorney, Larry is rated as "AV® Preeminent™" by Martindale-Hubbell, the national rating service for lawyers. They describe this as meaning the "Highest Possible Rating in Both Legal Ability and Ethical Standards". M-H also rated Larry as a "Top Rated LawyerTM in the DC/Baltimore Area".
The field of divorce mediation has undergone many changes since 1980, and Larry was often been in the forefront of many of these changes. When the Virginia Supreme Court began to certify mediators in 1993, Larry was in the first group of professionals to be so certified. Larry was among the Founding Members of a new national mediation organization, the Academy of Professional Family Mediators, and is listed by them as an "Advanced Mediator". His articles frequently appear in their quarterly journal, The Professional Family Mediator. These can be read online at their website, www.apfmnet.org. An interview with Larry about APFM appeared as a full page article in the September 2, 2013 issue of the Virginia Lawyers Weekly. Larry often conducted workshops on mediation at various professional conferences, including the Virginia Mediation Network and APFM.
Larry was certified to do collaborative practice as an attorney. He was a member of the International Academy of Collaborative Professionals, Virginia Collaborative Professionals, the D.C. Academy of Collaborative Professionals, and Collaborative Professionals of Northern Virginia. He had been a Commissioner in Chancery for the Circuit Court of Fairfax County, Virginia, and a Neutral Case Evaluator for that Court in family law matters. He was also appointed to the Conciliator Panel for the same Court.
The Academy of Professional Family Mediators recently set up a corporate body called the Professional Mediation Board of Standards. This nine member Board was established to administer standards of eligibility and proficiency for family mediators across the United States and to develop a program to certify qualified persons for the title of "professional family mediator". Larry was named as one of the members of the Board.

Obituary
It pains me greatly to tell you that Larry Gaughan died of melanoma on June 23, 2019. As a lawyer, family mediator, and especially as a husband, Larry's favorite topic was probably SIX COMPONENTS OF A GREAT MARRIAGE (As his wife, I was surely the beneficiary). He wrote extensively about adaptability in marriage, marital responsibility, marriage as a partnership and the role of self esteem in marriage. Lest you think "Here is a man thinking great thoughts as he rocks". Not at all. This is the same man who bicycled 390 miles (much of it with a flat tire and in the rain) across the mountains of Montana in 4 ½ days to attend his 50th high school reunion.
Larry was admitted to the Montana State Bar in 1957 and to the Virginia State Bar in 1967. Following a tour of duty in the Air Force as judge advocate in Texas, Turkey and France he obtained his LL.M and was asked to teach at UVA. He did so for seven years.

In 1979, Larry was selected as "Scholar in Residence" at Georgetown University Family Center. He integrated his studies with mediation and soon opened his own mediation practice calling it, "FAMILY MEDIATION OF GREATER WASHINGTON". Larry's work has been featured in The Wall Street Journal, The Washington Post, USA Today and Virginia Laywers Weekly.

Memorial services will be held at Money and King Funeral Home, 171 W. Maple Ave., Vienna, VA on Sunday June 30 at 2:00pm. Any donations to be made in Larry's name should be made to Doctors Without Borders. To do so please call (888) 392-0392. The online guestbook is available at www.moneyandking.com

Kind Words
"I have known Larry for almost 40 years. There is no-one more committed to the process and professionalism of mediation than Larry. We will miss him."
-Martin Kranitz